Affordable Healthcare Insurance 
As a financial advisor and consultant, I strive to make sure you get a a good return on your money. Health insurance is one of the biggest, and maybe the biggest, cost we have in our monthly budget. It's incredible to me that many people are paying more for their health insurance than their house payment. That's nuts!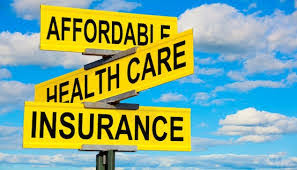 Many people get their health insurance from Obamacare (the so called Affordable Care Act), or from group insurance at work.
Obamacare is affordable if you are low income. In that case your premiums can be quite low and you may not even have a deductible. But if you are making over $50,000 a year or more, the cost and deductibles start to increase dramatically.
Let me give you an example of Obamacare pricing. Here are the parameters using my zip code in Alabama: 45 year old husband, 42 year old wife, two children 15 and 14, making $75,000 a year. The website says the family may qualify for a subsidy of $696 a year. There are six plans available ranging in price from $204.79 to $838.75 monthly. The premium depends on the deductible and level of care.
So you may think that $204.79, after the $696 subsidy, is great for a family of 4. Well let's see. The deductible for the family is $12,900 for the year. In other words, the family pays for everything, even to see the doctor, to the tune of $12,900 before any benefits whatsoever kick in. As an advisor who has met with 1,000 plus families and individuals in my career, I don't know too many that have $12,900 available to them for healthcare expenses. So this family pays $204.79 x 12 months = $2,457.48 in monthly premiums, plus $12,900 in deductible = $15,357.48, before they can receive any payment for medical cost. They pay for all their doctor visits, all medications, any visits to urgent care or the emergency room, anything and everything having to do with their healthcare until they reach the deductible. The deductible per individual is $6,450. How's that working for you? Continue reading →