Retirement…How Will That Look For Me?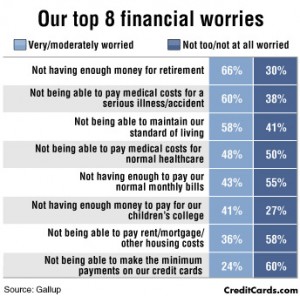 WHAT IF….BEFORE STARTING RETIREMENT….you first had to pass a test? You know, like a driver's test. Something that would gauge how much you know about savings targets, medical bills, basic estate planning, when to start social security, how much to draw from your retirement, and other fundamental issues related to retirement.
How well would you do on that test? Do you think you would pass? Over the next few weeks I will write about some questions in the Wall Street Journal Retirement Quiz. So you'll want to make sure you stay tuned, and share my blog post with others.
Let me give you some statistics. These are based on a study done in 2012 by Koski Research. They surveyed 1,000 employed adults 50-70 with investable assets of $100,000 or more…margin of error: +/- 3%. If you're younger than 50, you better read this.
Only 46% of surveyed workers are confident about being able to afford essentials in retirement, but 78% expect to be extremely happy in later life. Only 38% are confident about being able to afford "extras" like travel in later life, but 72% say their dream retirement includes taking "really nice" vacations. Only 62% say they have done everything they can to prepare for retirement, but 68% expect to work for pay after they retire, and 58% say they could be saving more for retirement than they are now.  Continue reading →