My 401K Plan
I wanted to share a report that came out from Bloomberg February 14. It was titled, Companies from Facebook to JP Morgan squeeze 401K contributions. You can read the article HERE  if you want. It was written by Carol Hymowitz and Margaret Collins.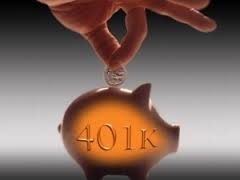 I've been reading over the years about how the government has had its eyes on 401K plans and IRAs as a way to rescue social security and acquire (steal) more of our money. But it turns out that employers are the ones that are trying to increase profitability on the backs of 401K plans.
The article starts out like this: "Employers are squeezing their workers' retirement savings, holding back on both the amount and the timing of 401(k) matching funds and dragging out vesting schedules. Taken together, these measures are making it more difficult to save for old age.
Major companies that have engaged in such practices in recent years include Whole Foods Market Inc., Facebook Inc., Oracle Corp., Caesars Entertainment Corp. and JPMorgan Chase & Co."
These aren't just the little companies that are doing this. These are the big guys, the famous companies you wouldn't think would do these kinds of things. Now…we can understand, in some ways, why this is happening. Obamacare is a major factor that has cut into profitability over the years. Corporate taxes, second highest in the world, have something to do with it. Onerous federal rules and regulations, especially since the financial meltdown, have also contributed to companies and corporations looking at cutting back on employee goodies, like 401K benefits.   Continue reading →